Banjo
Banjo Corporation
Banjo Corporation prides itself on the ability to make quality valves, fittings and spray accessories using innovative designs, skillful engineering and precise manufacturing. Banjo specializes in injection molding of glass reinforced polypropylene. One of the key features of glass reinforced polypropylene is excellent chemical and corrosion resistance, lightweight, low moisture absorption and good impact resistance, all of which make it an ideal design for the application industry.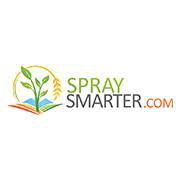 Well known for its valves, Banjo has created a line of products to match your many spray application needs. Among the valve collection, SpraySmarter.com offers a multitude of valves including ball valves, electric valves, pressure relief valves, nozzle valves, pinch valves and port valves to name a few. The poly valves are reinforced with fiberglass for additional strength, making them a more durable design. The full port ball valve is also available in a stainless steel finish.
In addition to valves, Banjo also offers a variety of fittings, T and Y strainers, flow meters and tank flanges. Banjo's garden hose fittings are available as well as fittings for your application needs such as elbow fittings, pipe crosses and plugs, barb tees and hose menders, among many others. Three different self-calibrating models of the flow meter are available on SpraySmarter.com. The one inch, two inch and three inch models allow you to track water going into the tank or the amount of product you are filling the sprayer with.
Banjo's superiority in design and manufacturing make it an excellent choice for valves and fittings. With the many options available on SpraySmarter.com, you are sure to find what you are looking for.