Trimble
Trimble
Known for its GPS technology, Trimble has created a wide range of other positioning technologies including laser, optical and inertial technologies. Trimble was founded in 1978 and serves a variety of industries from agriculture to land survey, construction, transportation and mapping. The technology created by Trimble allows for collection, management and analysis of information.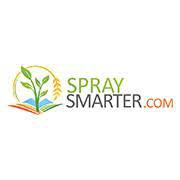 In the agriculture industry, Trimble has found a niche with its precision agriculture technology which includes steering systems, flow and application control yield monitoring and farm management software. The Trimble product line is designed to create a more efficient operation, a reduction of input costs and improved crop yields for the farmer.
Greenseeker, one of Trimble's powerful precision agriculture tools, is now available through SpraySmarter.com. GreenSeeker, a handheld crop sensor scans crops and provides a measurement for the plants' health. This product is designed to help you make better crop Nitrogen application choices. The Greenseeker system allows for a more efficient and precise program to manage crop inputs.
List Price: $2,119.42

Your savings: $549.48 (26%)

$1,569.94