Ace Pumps (FMC-150-HYD-206) Discharge Pump
This Ace 150 Series Discharge Pump is designed to perform with applications on large tanks and long spray booms with high pressure and volume. This "F" model includes both NPT ports and standard flanged connections.
Ace Pumps Discharge Pump

Ace Pumps began to develop hydraulic driven motor pumps in 1969 and hasn't looked back since. They are a industry leader for various pump application throughout the agriculture industry due to their mounting versatility, customized performance, and easy maintenance.
Here are the FMC-150-HYD-206(49920) main features:
For applications with large tanks and longer spray booms

Higher Pressure
Greater Volume

"F" model is equipped with both NPT Ports and Standard Flanged Connections
1½" Suction x 1¼" Discharge
120 PSI
5100 RPM
120 GPM
7 GPM Hydraulic Motor
The 206 hydraulic motor fits almost any type of hydraulic system on your tractor or sprayer. It requires a 7 GPM maximum hydraulic fluid input. These pumps are recommended for the following applications:
Load Sense Closed Center
Open Center (up to 16 GPM w/internal bypass)
Pressure Comp Closed Center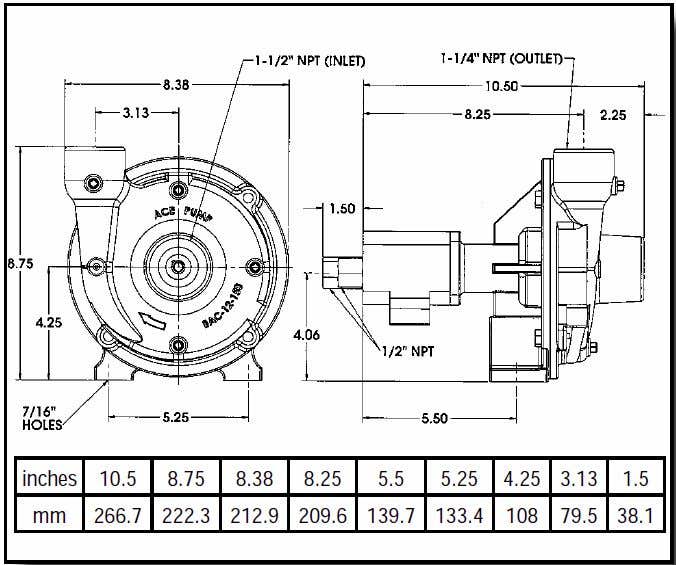 Ace Pump Part #:
49920 = Discharge Pump FMC-150-HYD-206
More Information

| | |
| --- | --- |
| Price | $1,426.29 |
| Special Shipping Group | SSR_DEFAULT |
| Apache Part | 0 |
| Manufacturer | Ace Pumps |
| Inlet | 1 1/2" |
| Outlet | 1 1/4" |