Teejet 1 1/2" 2.5-16 GPM Rapid Check Flow Meter, insert only
This insert for the TeeJet Rapid Check Flow Meter is available in 3 different flow ranges, including ranges between 2.5 – 16 GPM, 2.6 – 53 GPM, and 9 – 90 GPM. The insert is easily removed and interchangeable with any of these three compatible inserts.
TeeJet Rapid Check Flow Meter; Insert Only
Rapid check flow meters are designed to allow their measurable flow range to be quickly and easily changed by switching inter-changeable inserts. This allows the flow meter to operate over wider flow ranges than standard flow meters.
The flow meter should be calibrated after:
Installation
Changing Inserts
Changing to a different chemical
Changing plumbing
See your operators manual for calibration instructions. Record the "fine tuned" calibration number for each insert used so that the flow meter will not have to be re-calibrated each time any change is made.
The flow meter/insert combinations should have the following initial calibration numbers: (Click image for larger view)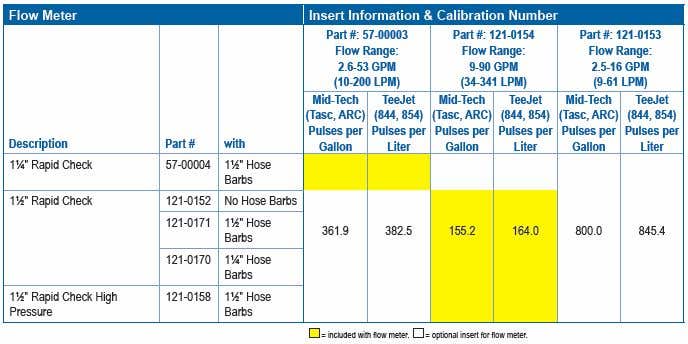 Teejet Part#:
121-0153 = 2.5-16 GPM
More Information

| | |
| --- | --- |
| Price | $1,100.42 |
| Special Shipping Group | SSR_DEFAULT |
| Apache Part | 0 |
| Manufacturer | TeeJet Spray Parts |
| GPM Range | 2.5-16 |