TeeJet Spray Parts
TeeJet Spray Parts
Focusing solely on the application industry since the company was founded in the 1940s, TeeJet Spray Parts have provided a variety of quality parts for spraying and fertilizing needs. The combined experience and knowledge of the spraying industry has allowed them to create innovative spraying parts.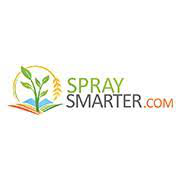 Noted for their many options in spray nozzles, TeeJet's list includes tips for every type of application from broadcast and band to pre- and post-emergence herbicides and contact or systemic fungicides and insecticides. TeeJet's experience in spraying, fertilizing and seeding make them better suited to provide technical solutions and innovative products for your business.
Whether you are looking for a standard flat-fan nozzle or one with special features such as air induction, drift reduction or extended range nozzle tips, you are sure to find it on SpraySmarter. Beyond this, the nozzles and tips come in a variety of materials. With the help of the SpraySmarter.com tip selection calculator, you can make your nozzle tip selection with confidence.
In addition to the many spray tips, TeeJet also provides flow meters, valves, tip strainers and nozzle bodies. Nozzle bodies come in single or multiple outlets up to five. The multiple-outlet nozzle bodies are designed for more efficiency when switching nozzle tips. Looking at flow meter selection, you will find an assortment of options including the rapid check flow meter, the standard flow meter and multiple hose barb sizes.
If you are looking for selective control on boom sprayers, TeeJet has designed different control valves such as a standard control valve, the electrically operated solenoid valve, the 2-way manual shutoff valve, the 3-way manual bypass valve and a pressure relief valve. Additionally, TeeJet's flow back valve is improving accuracy of spraying operations in a variety of applications with its rapid shut off of spray tips when boom sections are shut off.
On the other hand, if your spraying needs include spot spraying or tree spraying, livestock spraying or power washing, TeeJet offers spray guns that operate at pressures from 30 to 800 psi. The spray guns come in different materials including brass, aluminum, nylon, Teflon, polypropylene and stainless steel.
TeeJet has many spray accessories to ensure the best, quality set up for your application.