TeeJet Precision
TeeJet Technologies Precision
TeeJet Technologies has focused on creating innovative, industry-leading products for application technology since it was founded in the 1940s. TeeJet's control systems date back to some of the earliest in-field uses of electronics in agriculture. The experience and knowledge TeeJet's experience and knowledge in spraying, fertilizing and seeding make them better suited to provide technical solutions and groundbreaking products for your business.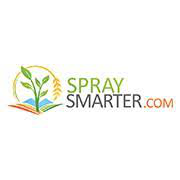 TeeJet has designed a variety of precision products to assist the grower with a more accurate operation. Among TeeJet's precision product lineup are GPS guidance systems, mapping software, auto steering products and boom section control.
Both the Matrix Pro Guidance System and the CenterLine 220 GPS Guidance System are available on SpraySmarter.com. The Centerline 220 offers a LED lightbar guidance while the Matrix Guidance System includes the TeeJet exclusives, RealView Guidance Over Video and NextRow, complete user control and auto steer and automatic boom section control capabilities.
The Realview Guidance Over Video is an exclusive TeeJet product that provides you with guidance information and a live video simultaneously, which allows for improved accuracy and an easy check on implement performance.
The 70 Series and the 73 Series monitor application control kits designed by TeeJet are also available on SpraySmarter.com. Both of these monitors include serve many functions such as a unit counter, electronic level gauge and control over the pressure monitor to name a few.
The 834-P sprayer controller core kit is an option for smaller sprayers with 12 volt electrical product pumps. This system controls the pump RPM in order to adjust the application rate.
TeeJet's rapid check flow meter is manufactured using nylon noted for its chemical resistance and durability. The flow meter includes one inch hose barbs and has a flow capacity of .75 to 5 gallons per minute.
Precision products designed by TeeJet are known for their quality and reliability in the fields.