Smucker Manufacturing
Smucker Manufacturing
Smucker Manufacturing has manufactured and distributed agricultural equipment since 1983. The company was founded when grass seed growers were looking for better methods for weed control and foam marking. Now Smucker offers a diversified range of products based on the idea of finding practical solutions for farmers.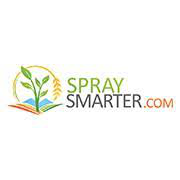 Landmark foam markers and Vision Works camera monitors are both part of the Smucker brand which is available on SpraySmarter.com. Both the single-drop and dual-drop foam markers are offered ranging in size from 6 gallon to 25 gallon poly tanks. The Additionally, Smucker has designed two TurfMark options including a single sided and a two sided marker, both of which include a one gallon pressurized tank.
The Vision Works monitor kits available on SpraySmarter.com offer many different options including a portable kit, split screen monitors, a DVD monitor and different sizes ranging from 3.5 inches to 12 inches. All of the monitor kits feature night vision and weatherproof camera, 420 TV lines and a 30 foot cable and 12 volt power connections.
<>Beyond this, the Vision Works replacement camerascan also be found on SpraySmarter.com. Each camera is a quality design that offers ease of use and quality design to assist with your spray application.