Greenleaf
Greenleaf Technologies
Greenleaf Technologies produces technologically advanced TurboDrop spray nozzles. Greenleaf has also added other nozzles including the Greenleaf Airmix Low Pressure Nozzle (AM), Greenleaf TurboDrop Asymmetric Dual Fan Nozzle (TADF) and the Greenleaf TurboDrop XL Medium Pressure Nozzle (TDXL). Additionally, Greenleaf offers wind and weather meters to assist with chemical applications.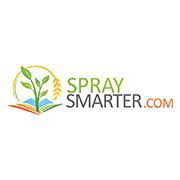 The Airmix low pressure nozzle can decrease driftable fines by 50 to 80 percent. The affordable yet quality designed Airmix works better at lower operating pressures and works optimally between 20 and 60 PSI.
The Turbo drop collection that is available on SpraySmarter.com includes both the asymmetric dual fan nozzle and the XL medium pressure nozzle. The asymmetric nozzle was created to improve coverage on both vertical and angular targets especially when using contact chemicals. On the other hand, the XL medium pressure nozzle offers an ideal combination of superior drift control and excellent coverage. This nozzle is recommended for pre-emerge and systemic chemicals as well as contact chemicals when using different operating pressures.
Beyond the Greenleaf spray nozzles, Greenleaf also offers wind and weather meters to assist with your application. Greenleaf weather meter is handheld; whereas, the WindMate weather meter is designed for a tripod fitting. The wind meter options provided by Greenleaf also include a handheld option as well as a tripod mounted option.