Ace Pumps
Ace Pumps
Founded in 1945, Ace Pump Corporation provides pump products for many industries including chemical application, off-highway, air conditioning and refrigeration. These varied applications have required Ace to successfully overcome a wide range of engineering challenges.
Ace has developed a complete range of products for the agricultural and off-highway equipment markets that do not require the electrical grid for operation. The pumps are found serving a variety of functions in industry today: crop sprayers, concrete trucks, asphalt milling machines, anti-icing trucks, turf sprayers and more.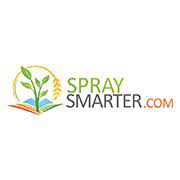 The years of engineering experience paired with cutting edge development processes make Ace your best choice for centrifugal pumps. There have been considerable technological advances since Ace was founded in 1945, but Ace has maintained its dedication to the customer as its main focus.
On SpraySmarter.com, both the belt driven and hydraulic driven Ace centrifugal pumpsare available. The centrifugal pump design provides good resistance to abrasive solutions, such as spraying chemicals, and extra flow for agitation.
Ace's hydraulic motor driven pumps offer advantages such as mounting versatility, customized performance and ease of maintenance. Beyond this, Ace built its hydraulic driven pumps with ease of maintenance in mind. On the hydraulic driven pump there are not any belts to align or break. To make repairs and replacements easier, the pump and the hydraulic motor shafts are separate.
Ace has also designed a belt driven centrifugal pump that is offered on SpraySmarter.com. Ace belt driven pumps are available in a variety of models which can be belt driven or direct coupled to a power source. The pumps are available in either clockwise or counterclockwise rotation.
All of Ace's centrifugal pumps are equipped with a stainless steel shaft and a wear ring for excellent corrosion resistance.
In addition to the centrifugal pumps, SpraySmarter.com also offer Ace pump parts including the pump keyway impeller, available in cast iron and thermoplastic, the hydraulic motor and the pump volute. The pump volute is available in both flanged and cast iron styles. SpraySmarter.com offers a wide range of Ace centrifugal pumps to suit your needs.